Indian meals are one of the few reasons you can wake me at night. This simple dahl is a perfect example of why.
Dahl isn't that well-known in the Netherlands so I did not grow up with this dish. But it is not that different from the rich soups and stews that I do know. One could say that dahl is a type of stew made of pulses and seasoned with a variety of spices.
I've visited India twice — the first time on a three week trip while the second time around we stayed for two months. But while I am now familiar with Indian flavours, I did not grow up with them. Many of the dishes I tried while on holiday were too spicy for me. Except for dahl.
Of course there are many types of dahl and there are more spicier versions. But generally speaking this is a dish you can find all around India and it will give you a hearty meal.
My version of this simple dahl comes from chef Meera Sodha. I came across her cookbook Fresh India while studying in Glasgow and I have been making a variety of her dishes ever since. The version below comes from her cookbook, but is adapted ever so slightly to make it into an easy weekday meal.
A final tip: We usually serve this with some roasted vegetables on the side. I've left this out of the recipe as it is not needed to make this dish into a balanced and healthy meal. However, if you have some leftover veggies in your fridge, I'd suggest cutting them into bite-sized pieces, tossing them in oil and some seasoning, and roasting them for 15-20 minutes in a preheated oven on 200 degrees.
---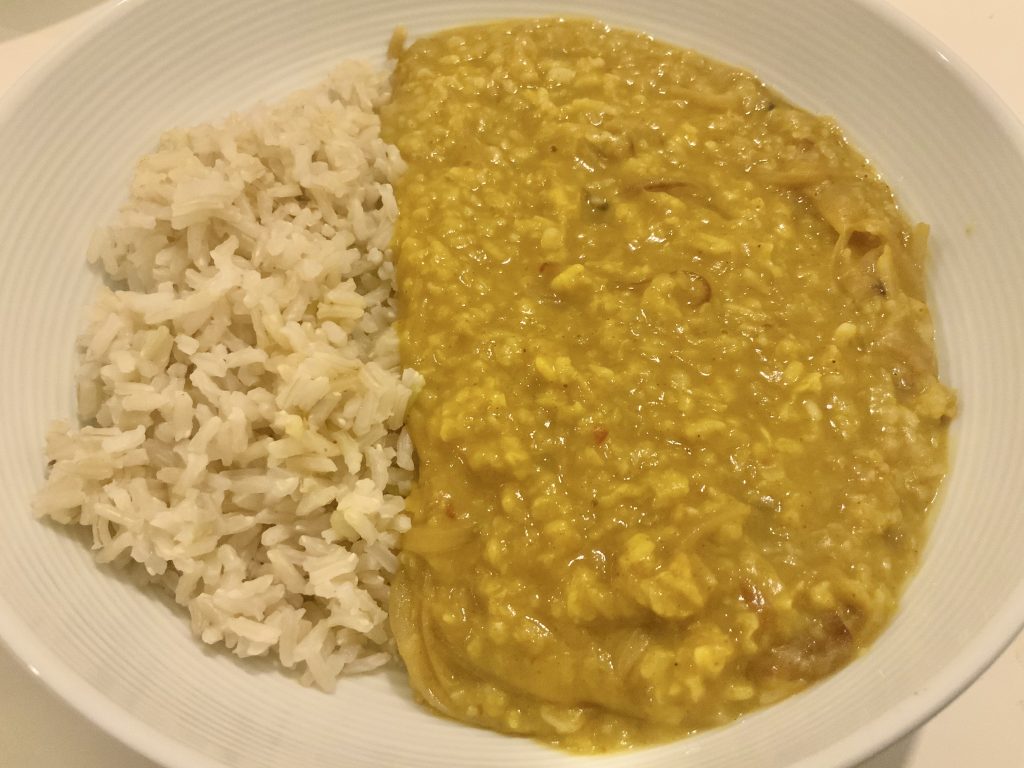 ---
Simple Indian Dahl
5 minutes preparation + 30 minutes cooking — serves 2
150 grams moong/mung dal
100 grams brown rice
2 banana shallots
5 cloves of garlic
1 tablespoon ground cumin
0.5 tablespoon chili flakes
0.5 teaspoon ground turmeric
1 teaspoon garam masala
Salt
Oil
Wash the mung dal well under cold water until the water runs clear.
Place the mung dal in a pot with 700ml of water and bring to the boil.
Let the mung dal simmer on a low heat for about 30 minutes.
Preparing the spices
While the dahl is simmering, we prepare the spices.
Cut the banana shallots into long thin slices.
Heat oil in a pan and add the shallots and cumin powder once hot. Fry for about 5 minutes.
Crush the garlic and add it to the shallots along with the chili flakes.
Mix everything together and cook for a further 5 minutes until the shallots are brown.
Remove the pan from the heat and mix the turmeric and garam masala into the shallot mix. Set aside.
Prepare the rice as a side dish while you fry the shallots. Bring a pot of water to a boil. Add the rice once the water is boiling. Cook the rice for c. 19 minutes.
Once the dahl has finished simmering (it should now look like a thicker soup) you can add the shallotmix. Mix the shallot mix through the dahl.
Season the dahl with a teaspoon of salt and some extra turmeric to taste.
Serve the dahl with the brown rice.
Enjoy your meal!
---
Did you like this?
Leave a comment below if you made this recipe, and let me know what you think. Tips and feedback to improve the recipe are always welcome too!