This stir fry comes from one of my favourite cooking books by Meera Sodha. Her easy Indian recipes keeps me coming back time and time again.
This is a simple dish with only three core ingredients: spinach, chickpeas and tomatoes. A match made in heaven. But while they are the heroes, we also use a bunch of spices to make this a well-balanced dish. But don't worry, this is still a quick weekday meal for us busy people!
As I said, this dish is featured in Meera Sodha's Fresh India cooking book. I've only adapted it very slightly to better understand the order of cooking and to use some kitchen staples. I am also adding the serving of wild rice to the dish which makes it a filling meal. Note that the link to the cooking book is not a referral link; I don't make any money from it, I am only sharing my personal experience and want to signpost to the original author.
---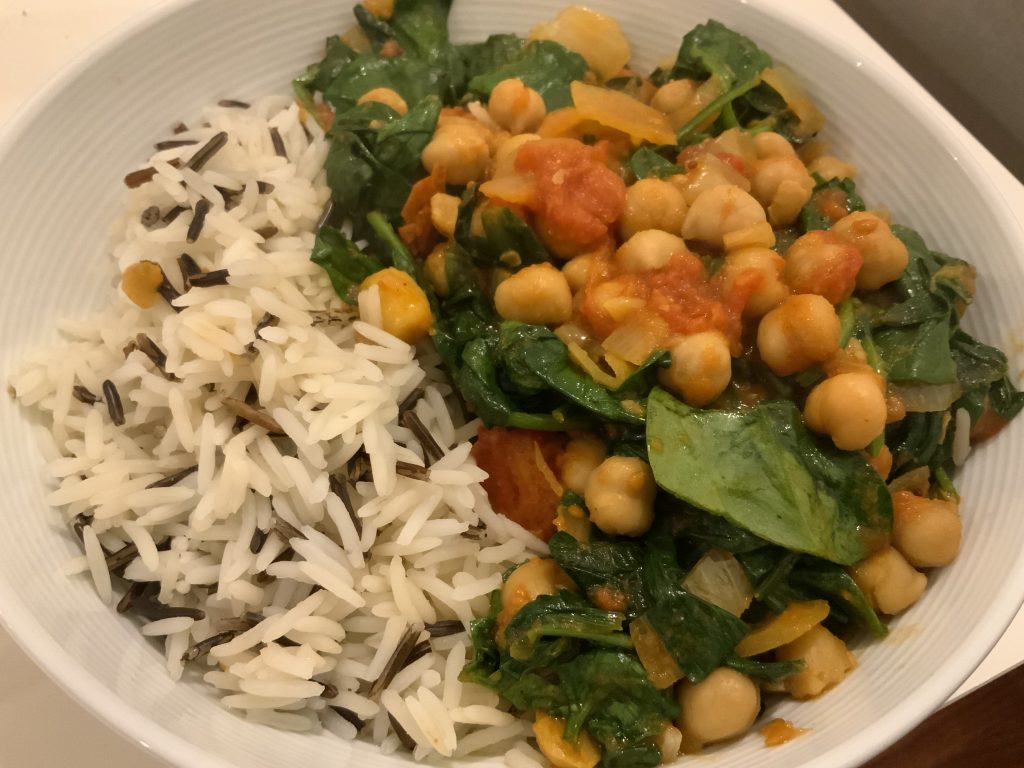 ---
Spinach and chickpea stir fry
5 minutes preparation + 30 minutes cooking — serves 2 to 3
160 grams wild rice (or more if you're cooking for 3 people)
2 onions
500grams fresh (baby) spinach
5 cloves of garlic
2cm ginger
0.5 teaspoon mustard seeds
1 teaspoon ground cumin
1 can of plum tomatoes
2 cans chickpeas
1.5 teaspoon ground coriander
1 teaspoon chili powder
0.5 teaspoon ground turmeric
1 teaspoon salt
Oil
Cut the onions.
Peel and grate the ginger.
Press the garlic.
Preparing the rice and stir fry
Boil a liter of water in a kettle.
Wash the rice and cook for c. 20 minutes. Drain and set aside.
While the rice is cooking, heat some oil in a pan and once hot, add the mustard seeds, cumin and onion.
Fry the onions for c. 8 minutes on a medium heat until they soften and start to brown.
Add the garlic and ginger and fry for another two minutes.
Add the full can of plum tomatoes and crush the tomatoes.
Fill the empty can with a third of water and add it to the pan. Cook for c. 10 minutes to evaporate most of the liquid.
Drain and wash the chickpeas.
Add the chickpeas to the pan and mix with the tomato mix. Heat through for a minute.
Mix in the coriander, chili powder, turmeric and salt.
Wash the spinach and slowly add it to the tomato-chickpea mix. Do this in a few stages to as the spinach will wilt and it will be easier to add in more spinach.
Once you have added all the spinach, heat it all through for another 5 minutes.
Serve the wild rice with the spinach and chickpea stir fry.
Enjoy your meal!
---
Did you like this?
Leave a comment below if you made this recipe, and let me know what you think. Tips and feedback to improve the recipe are always welcome too!