This Indonesian-inspired dish is a quick weekday meal with one of my favourite ingredients: tempeh.
I got to know tempeh while on holiday in Indonesia. And while I have not yet been able to prepare it as well as I have eaten it while on holiday, this dish is coming close to the tastes that I remember. The dish below is based on a Dutch recipe, but as usual, we adapted it to make it into quick meal.
The name of this dish, tempeh goreng, is a reference to how you prepare the tempeh: you fry it. Tempeh on its own does not have a lot of flavour as it is literally a piece of fermented beans, but it does soak in the flavours of the ingredients you use in your dish. So if you fry it with garlic, ginger, onion, sambal and kecap manis, it becomes irresistible!
---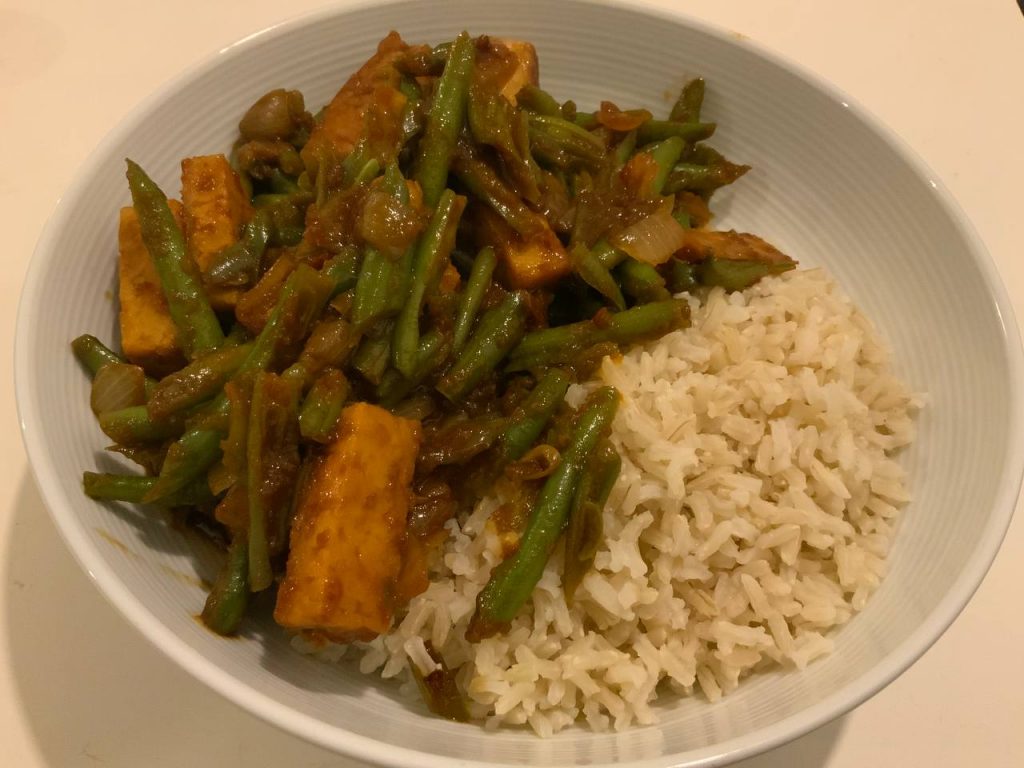 ---
Tempeh goreng
10 minutes preparation + 25 minutes cooking — serves 2 to 3
160 grams brown rice (or more if you're cooking for 3 people)
400-500 grams frozen green beans
1 pack tempeh (c. 300 grams)
2 small onions
4 cloves of garlic
3cm fresh ginger
2 tablespoons lemon juice
3 tablespoons sambal manis (if you can't find this – you can buy a different version, sambal oelek, in an Asian store. Use sparcely because the oelek version is considerably more spicy!)
3 tablespoons kecap manis
Oil
Cut the tempeh into thin slices of 0.5cm by 3cm.
Cut the onions.
Peel and grate the ginger.
Press the garlic.
Preparing the rice and tempeh goreng
Boil a liter of water in a kettle.
Wash the rice and cook for c. 19 minutes. Drain and set aside.
Heat some oil in a pan and once hot, add the sliced tempeh.
Fry the tempeh on a medium-high heat for 5-7 minutes. Turn regularly so they brown on each side. Take out of the pan and set aside (I usually keep them on a plate lined with kitchen towel).
Add some extra oil to the pan if needed and fry the onion, garlic, and ginger for c. 5 minutes.
Add the frozen green beans to the onion mix and cook until the green beans have defrosted and most of the extra moisture has evaporated.
Add the tempeh, sambal and kecap to the pan. Mix through and cook for another 4 minutes together with the green beans.
Add the lemon juice to the tempeh goreng and mix through.
Serve the tempeh goreng with the rice.
Enjoy your meal!
---
Did you like this?
Leave a comment below if you made this recipe, and let me know what you think. Tips and feedback to improve the recipe are always welcome too!