This delicious adaptation of an Indian curry is the perfect comfort food.
Some Indian stews — curries — are too spicy for me. But this balti gives the perfect balance. And this dish uses my favourite autumn / winter vegetable: butternut squash! Roast the butternut squash and some sweet potato and mix it into the curry for a delicious feel-good meal.
Indian curries can be quite elaborate and tricky, but with this dish you use a spice paste to recreate the base of the curry and give it a deep flavour. This dish is originally from a Sainsbury's magazine but as usual I have modified it slightly, mainly with more vegetables and more detailed instructions.
---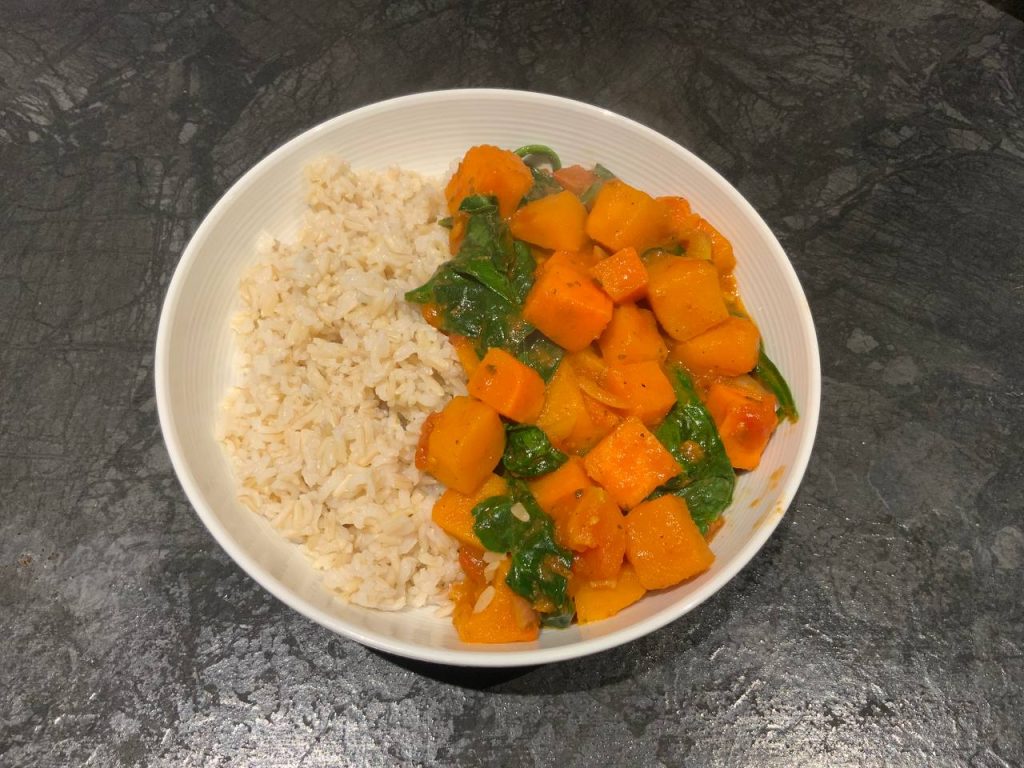 ---
Winter balti curry
10 minutes preparation + 20 minutes cooking — serves 2
Ingredients
Tip: you can also use a pack of pre-cut butternut squash and sweet potato cubes to make this dish even easier and faster to prepare. If you do, skip steps 2 and 3.
200 grams butternut squash
200 grams sweet potato
1 onion
2 cloves of garlic
3-4 tablespoons balti curry paste (check the paste is suitable for vegetarians)
1 can chopped tomatoes
150 ml vegetable stock (prepared with 0.5 vegetable stock cube)
160 grams rice
100 grams spinach
Pepper and salt
Oil
Optional: greek-style yoghurt
Preparation
Heat the oven to 220 degrees.
Peel the butternut squash and cut into 2cm cubes.
Peel the sweet potato and cut into 2cm cubes.
Mix the pumpkin and potato cubes with a tablespoon of oil and a pinch of salt and pepper.
Roast the vegetables in a large oven dish for 20 minutes in the preheated oven. Toss halfway through.
Bring a liter of water to a boil in a kettle.
Peel and chop the onion.
Peel the garlic and chop finely.
Preparing the curry
Wash the rice and bring to a boil in a pot with the pre-boiled water.
Cook the rice for c. 19 minutes (longer/shorter depending on packing instructions). Drain and keep aside.
Heat some oil in a pan and add the onion once the pan is hot. Fry the onion for c. 6 minutes until soft.
Add the garlic and spice paste to the pan and heat for another 2 minutes.
Add the whole can of chopped tomatoes and vegetable stock to the pan. Simmer gently for 10 minutes.
Bringing it all together
Wash the spinach.
Add the roasted pumpkin and sweet potato to the curry. Mix through.
Add the spinach to the pan, cover with a lid, and heat for 2 minutes to wilt the spinach.
Stir the curry once more and then serve with the rice, and possibly some yoghurt as an extra garnish.
Enjoy your meal!
---
Did you like this?
Leave a comment below if you made this recipe, and let me know what you think. Tips and feedback to improve the recipe are always welcome too!