A luxurious, delicious and filling breakfast can be created in just five minutes (and one night!).
While dinner is my favourite meal, breakfast is arguably the most important one of the day. I know too many people that skip it or not take the time for it, for various reasons. With this recipe, I will show you that time to prepare or an uninspried meal no longer have to be excuses not to create a delicious breakfast that feels like you're getting a hotel breakfast, right at home (or take it on the go!).
The secret to this breakfast is that it's overnight oats. A luxurious version of it. While discussing breakfast with colleagues recently, I learned that my version sounds like a hotel breakfast, rather than your hardcore breakfast oats that are only prepared with water and have no toppings.
My version takes your standard overnight oats recipe, and then adds some easy toppings for a delicious breakfast. You take two minutes in the evening to mix your oats with soy milk and cinnamon, then set it in the fridge to work its magic overnight. The next morning, you take two minutes to add another splash of soy milk, nuts, fruits and some organic honey. Prepare it in a smaller travel box and you could even take it with you on your commute to eat it if you don't have enought time at home.
---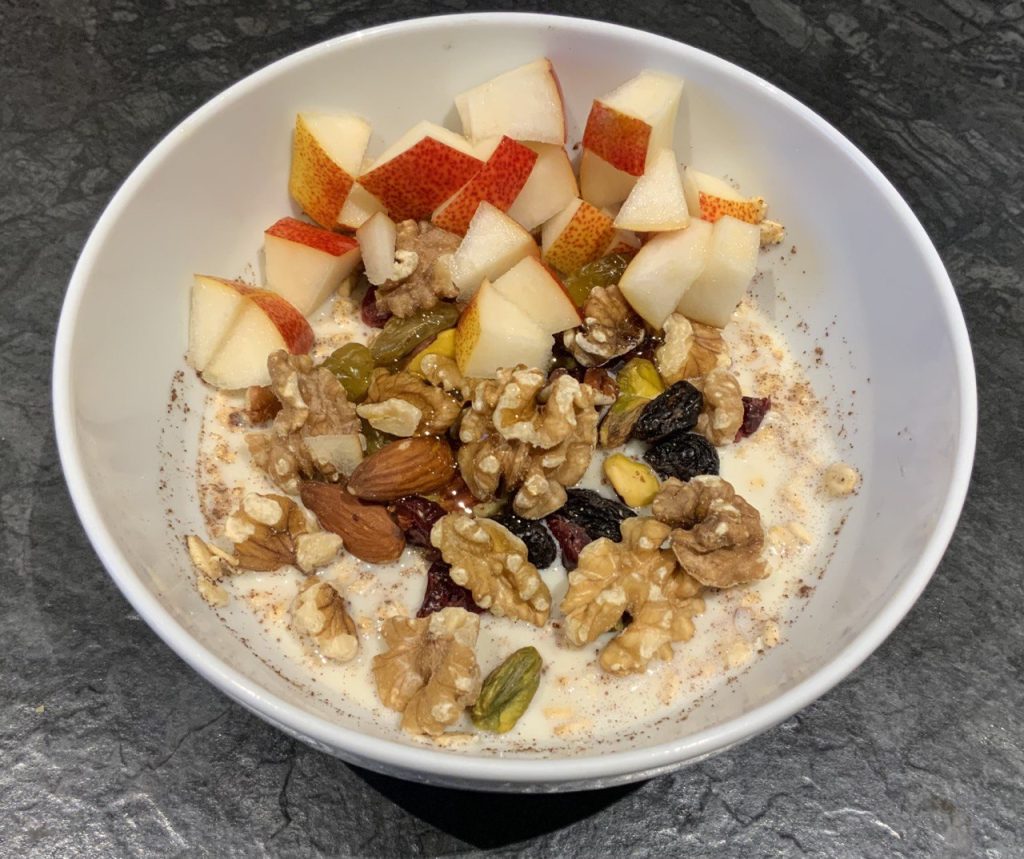 ---
Power breakfast
5 minutes preparation + overnight — serves 1
Ingredients
The below is based on my portion for breakfast. You may want to change the amount of oats depending on your appetite. For example, my partner takes 75 grams of oats, mixed with 150ml of soy milk and a full teaspoon of cinnamon. Whatever amount of oats you decide to take, just adjust the amount of soy milk accordingly (1:2 ratio). In terms of fresh fruits, I take whatever is in season and tend to vary between apples, pears, bananas, strawberries, and blueberries.
50 grams jumbo oats
100 ml soy milk
0.5 teaspoon ground cinnamon
2 tablespoons of any nuts and fruits mix (or: 2 tablespoons of broken walnuts)
1 tablespoon organic honey
1 piece of fresh fruit
Preparation
Prepare steps 1 and 2 the night before.
Mix the oats with the cinnamon and soy milk.
Cover the oats and keep in the fridge overnight.
When you are ready to eat your breakfast, add a splash of soy milk to the oats.
Wash or peel the fresh fruit and cut into bitesized pieces.
Add the fresh fruit, nuts and honey to the oats.
Enjoy your meal!
---
Did you like this?
Leave a comment below if you made this recipe, and let me know what you think. Tips and feedback to improve the recipe are always welcome too!