While roasted vegetables may not sound as spectacular as other meals, this dish is jam-packed with flavour.
But didn't we promise you that eating vegetarian is more than broccoli? More than only vegetables? Indeed we did. But it doesn't mean that we can no longer hero vegetables. No soggy broccoli. But crispy, from the oven. And some sweet potatoes.
This dish is really simple. In fact, all you have to do is cut the vegetables and put them in the oven at the right time. Add some Moroccan spices and.. Bonne appetite!
The mix of vegetables with added chickpeas make this dish surprisingly filling. I found this recipe in a magazine of the Dutch supermarket Albert Heijn (recipe in Dutch), but I've adapted it slightly and added cumin powder, less courgette, and more chickpeas.
Feel free to change the amount of each vegetable in this dish to taste. Or even replace some. Just be mindful of the different roasting times of each of them (as indicated below).
---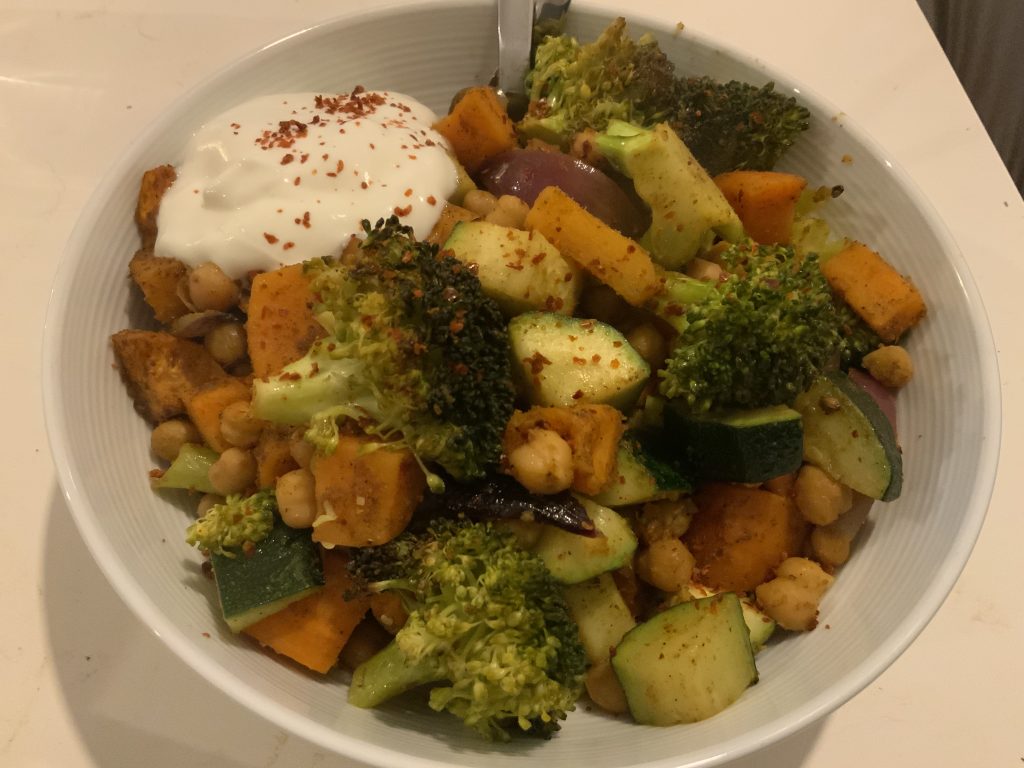 ---
Peanut stew
10 minutes preparation + 30 minutes cooking (oven) — serves 3
600 grams sweet potatoes
2 large red onion
500 grams broccoli
1 courgette
1-2 cans of chickpeas (we add two cans because we like them but one can is enough as a minimum for this dish)
5 tablespoons olive oil
1.5 tablespoon ras el hanout
0.5 tablespoon cumin powder
1 teaspoon garlic powder (or 3 cloves of garlic, finely sliced)
c. 100 grams of Greek yoghurt
Optional: chili flakes to garnish
Preheat the oven to 200 degrees.
Peel the sweet potatoes and cut into cubes of max 1.5cm. Make sure they are evenly sized. Larger pieces take longer to roast in the oven.
Peel the red onion and cut into wedges.
Mix the sweet potato cubes, onion, olive oil, ras el hanout, cumin powder, garlic and a pinch of salt in a large oven dish.
Roast the sweet potato and onion high in the oven for 10 minutes. While the first vegetables are in the oven, prepare the others.
Drain the chickpeas.
Wash the courgette and cut into 2cm cubes.
Wash the broccoli and cut into small florets. Peel the stalk and cut into equal cubes of 1.5-2cm.
Mix in the broccoli, courgette and chickpeas with the sweet potato mix. Roast in the middle of the oven for another 20 minutes. Turn halfway through so that all vegetables cook evenly.
Serve the roasted vegetables with the Greek yoghurt. Add chili flakes to taste.
Enjoy your meal!
---
Did you like this?
Leave a comment below if you made this recipe, and let me know what you think. Tips and feedback to improve the recipe are always welcome too!