An easy variation on a favourite takeaway meal.
Who doesn't love a good takeaway? I certainly do. The problem is that you usually end up spending way too much, and it isn't all that healthy. But what if I told you that you could recreate that same feel good feeling of a takeaway by making it yourself? Without it being too difficult or too lengthy of a process? That's what this recipe is all about.
This recipe reminds me of my American friend. She came to visit me for Christmas four years ago while I was studying in Glasgow. We weren't sure what to cook for Christmas Eve which is when she told me that in her family it is tradition to get a takeaway meal on Christmas Eve as Christmas Day is the day where you go all out on a big meal. So the day before, Christmas Eve, you don't really want to bother with spending too much time in the kitchen to cook another big meal.
I loved that idea. It was totally different from my culture and family traditions in Belgium where Christmas Eve is a Big Thing. So four years ago in Glasgow we had a Chinese takeaway for Christmas Eve. I had a sweet and sour stirfry. It was way too sweet. Not that healthy. But it was yummy.
This year, however, I learned how to make my own sweet and sour stirfry that is both delicious and healthy. I found this recipe in a magazine from Vegan Food & Living and adapted it to make it easier to follow, and, of course, changed the vegetables around.
---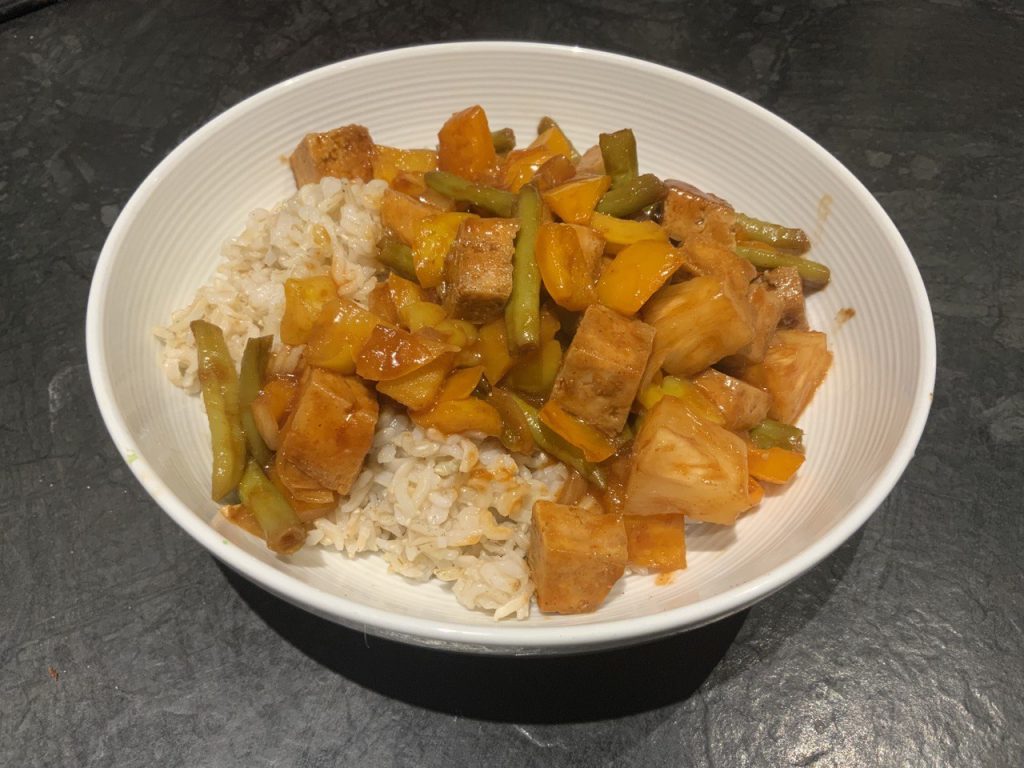 ---
Sweet and sour tofu stirfry
10 minutes preparation + 30 minutes cooking — serves 2
Ingredients
6 tablespoons ketchup
6 tablespoons syrup
9 tablespoons soy sauce (reduced salt)
6 tablespoons cider vinegar
1 tablespoon olive oil
1 tablespoon cornflour
1 block firm tofu
1 teaspoon garlic granules
1 teaspoon Chinese five spice
2 tablespoons nutritional yeast (I buy them in sachets so it doesn't spoil as quicly, as I only used it in tofu dishes to crispen up the tofu. You can leave this out if needed though)
1 onion
2cm verse gember
2 cloves of garlic
2 peppers (different colours — choice is yours)
150 grams frozen green beans
1 small can of pineapple chunks
2 tablespoons lime juice
160 grams (brown) basmati rice)
Oil
Preparation
Prepare the sauce by mixing the ketchup with 4 tablespoons of syrup, 6 tablespoons of soy sauce, the cider vinegar, cornflour and olive oil. Keep aside.
Wrap the tofu in some kitchen paper and press to remove excess liquid.
Cut the tofu into cubes.
Wash the peppers and cut into cubes.
Peel and cut the onion.
Peel and finely slice the garlic.
Peel and finely slice the ginger.
Bring a liter water to the boil in a kettle.
Wash the rice.
Drain the pineapple chunks. Keep aside.
Break the green beans in half if the pieces are too long.
Cook the rice with the preboiled water for c. 19 minutes (longer/shorter depending on pack instructions). Drain and keep aside.
Preparing the stirfry
Heat some oil in a pan and add the tofu once the pan is hot. Fry the tofu on a high heat for c. 6-8 minutes until golden. Turn frequently.
Lower the heat of the pan and add 3 tablespoons of soy sauce and 2 tablespoons of syrup to the tofu. Fry for another minute.
Add the nutritional yeast and garlic granules to the pan. Mix well with the tofu for another minute.
Remove the tofu from the pan and keep aside.
Add some extra oil to the pan and fry the onion, fresh garlic, ginger, peppers and green beans for c. 6-7 minutes until softened.
Add the Chinese five spice to the pan and mix with the vegetables. Heat through for another minute.
Add the sweet and sour sauce and let is simmer for 10 minutes.
Bringing it all together
Add the tofu, pineapple and lime juice to the sweet and sour stirfry.
Mix everything well and heat through for a couple more minutes.
Serve the sweet and sour stirfry with the cooked rice.
Enjoy your meal!
---
Did you like this?
Leave a comment below if you made this recipe, and let me know what you think. Tips and feedback to improve the recipe are always welcome too!