This delicious stirfry with Chinese flavors is perfect for a quick, filling weeknight meal.
I found the original recipe in the magazine of Co-op, but I adapted it slightly by adding chickpeas. They really complete this dish, and make it a filling vegetarian meal. And also super healthy.
The great thing about this dish is that you need to do very little to create a tasty meal. Most of the total cooking time you can do something else. After you've put the cauliflower in the oven to roast and the rice is cooking, all you need to do is stirfry for five minutes at the end and you're done!
Don't forget that the cauliflower leaves are edible. Unfortunately I just had a slightly older cauliflower when I made this dish for the photo below. But if I've just bought a cauliflower and the leaves are still fresh, I cut them into small pieces and stirfry them at the beginning of the sauce. Also adds a nice pop of green on your plate!
---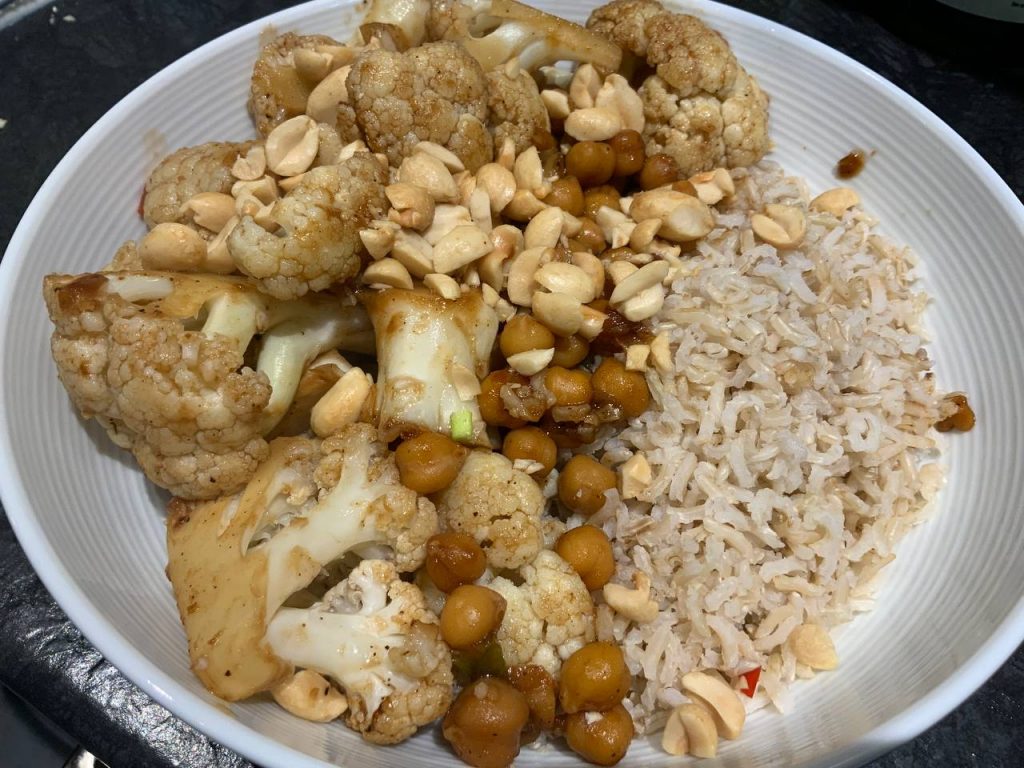 ---
Kung pao cauliflower with chickpeas
5 minutes preparation + 30 minutes cooking — serves 3
240 grams brown rice
1 cauliflower
2 cans of chickpeas
3 spring onions
1 clove of garlic
2 tablespoons olive oil
1 red chili pepper
0.5 tablespoon ground pepper
5 tablespoons hoisin sauce
2 tablespoons dark soy sauce
75 grams roasted peanuts
Oil
Preheat the oven to 200 degrees.
Wash and cut the cauliflower into florets.
Mix the cauliflower with olive oil and pepper in a large oven tray. Roast in the oven for c. 25 minutes.
Heat more than a liter of water in the kettle.
Cook the rice for c. 19 minutes. Drain and keep aside.
Preparing the stirfry
Start step 11 about five to eight minutes before you take the cauliflower out of the oven.
Peel the garlic and cut into thin pieces.
Remove the seeds from the chili pepper and cut into thin strips.
Wash the spring onions and cut into thin slices.
Drain the chickpeas.
Roughly chop the roasted peanuts.
Heat some oil in a pan and once hot, add the garlic, chili pepper and spring onion. Fry for c. 2 minutes.
Add the chickpeas and fry for a further 2 minutes.
Add the hoisin and soy sauce. Stir well.
Add the roasted cauliflower and mix through so that the sauce spreads evenly over the cauliflower.
Serve the rice with the cauliflower mix and roasted peanuts as topping.
Enjoy your meal!
---
Did you like this?
Leave a comment below if you made this recipe, and let me know what you think. Tips and feedback to improve the recipe are always welcome too!