It's the middle of winter and for most people in the Netherlands the choice of what to cook is simple: stamppot. Simply put it's a mash with vegetables, usually served with a sausage or bacon. It's simple, delicious, and everyone's favourite. So how to make this vegetarian?
This is a mash with a twist. Or at least that is if you're Dutch. This mash uses butternut squash, a vegetable well-loved in the United Kingdom (where I am currently living) but not that popular in the Netherlands (other than to make soup from). This is changing but it certainly isn't a traditional vegetable to use in stamppot. So when I found a Dutch recipe (link to original recipe — in Dutch) that used butternut squash in a mash, I was intrigued.
There was only one slight problem: the original recipe used bacon rashers. Now you may remember from our introductory article on meat replacements that bacon is one of the hardest types of meat to replace. But there is a solution for this thanks to the Vivera bacon pieces.
Curious? Read on for Jennifer's take on a Dutch classic.
---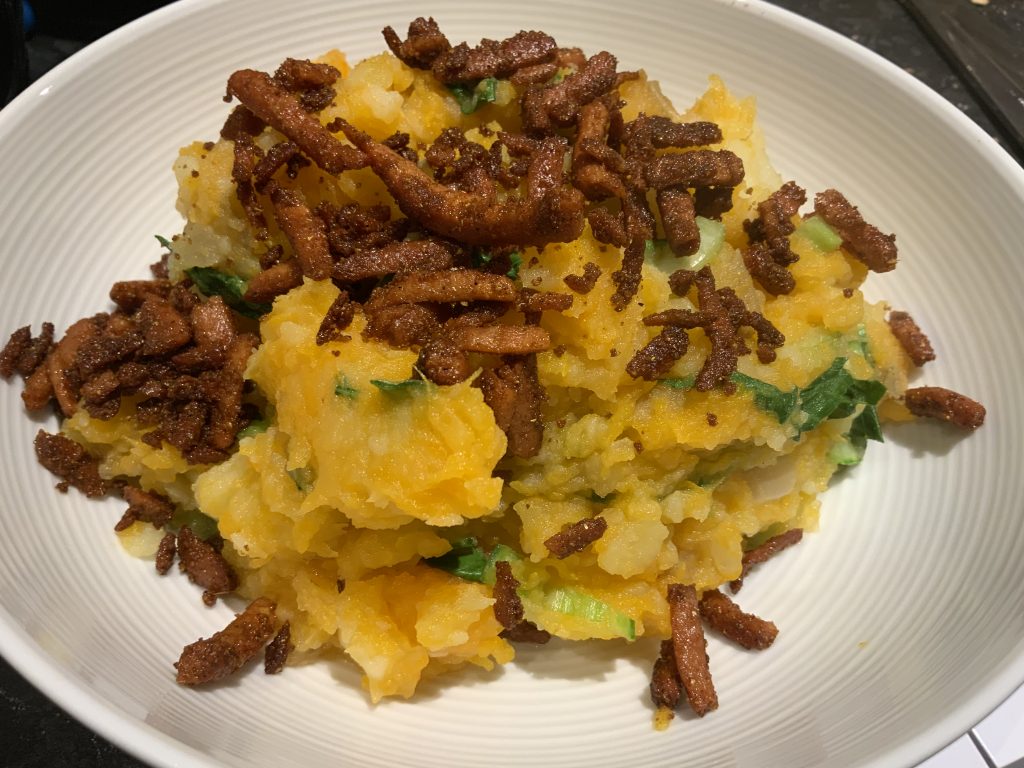 ---
Pumpkin mash
15 minutes preparation + 15 minutes cooking — serves 2
Vivera bacon
Onion
5 cloves of garlic (or 3 if they are big)
Butternut squash
500 grams potato
1-2 tablespoons curry powder (medium)
0.5 tablespoon flour
1 bush pak choi
Salt
Butter to fry the bacon in (you can use oil if you prefer but you then won't be able to make a gravy)
Fill your kettle with water and switch on (at least 1.5 liters)
Peel and dice the onion. Finely cut the garlic.
Heat some oil in a large pot and fry the onion for about 5 minutes until the onion is translucent. Add the garlic after two minutes and fry with the onion.
Peel the butternut squash and cut into large dice.
Wash the potato and cut into large dice (we don't peel the potato but if you prefer to peel it, then that's not a problem for this dish).
Add the butternut squash to the onion and garlic, fry for one minute.
Add the potato and a large pinch of salt. Cover the potato and butternut squash with boiling water. Cover and leave to cook on a low fire for 10 minutes.
Add the curry powder and flour to the Vivera bacon. Mix it so that all sides of the bacon are evenly coated. Add 2 tablespoons of curry powder if you like a punch, and add less if you do not.
Melt some butter in a pan. Once the pan is hot and butter melted, add the bacon and fry for about 8 minutes. Turn regularly. Optional: add more butter to create a gravy.

Cut the pak choi (or endive) in small strips.
Drain the mash in a colander and put the potato and pumpkin back in the pot.
Coarsely mash the potato and pumpkin.
Put the stove back on, on a low fire, to heat through the mash. Add the pak choi (or endive) and mix it through the mash. Season with salt (and pepper if you wish, but remember that the bacon has been well seasoned too).
Serve the mash with the bacon, and gravy if using.
Enjoy your meal!
Did you like this?
Leave a comment below if you made this recipe, and let me know what you think. Tips and feedback to improve the recipe are always welcome too!