A deliciously hearty meal that is perfect for colder evenings.
My friend introduced me to this dish after she had taken a cooking class in East London. This hearty stew is known as Tigadegena in West African countries. While I have never had the original (yet), I fell in love with this dish the moment I first had it at my friend's house.
Who wouldn't love a stew with some of my favourite ingredients? This delicious meal combines peanut butter with butternut squash and a bunch of flavourful spices. Originally my friend also prepared an Afro Caribbean style rice to go with this, but that is much more work so to keep things simple, I have served this with plain rice. Of course, when I feel fancy or have more time during the weekens, I serve this with a special rice of rice and red beans cooked in coconut milk.
---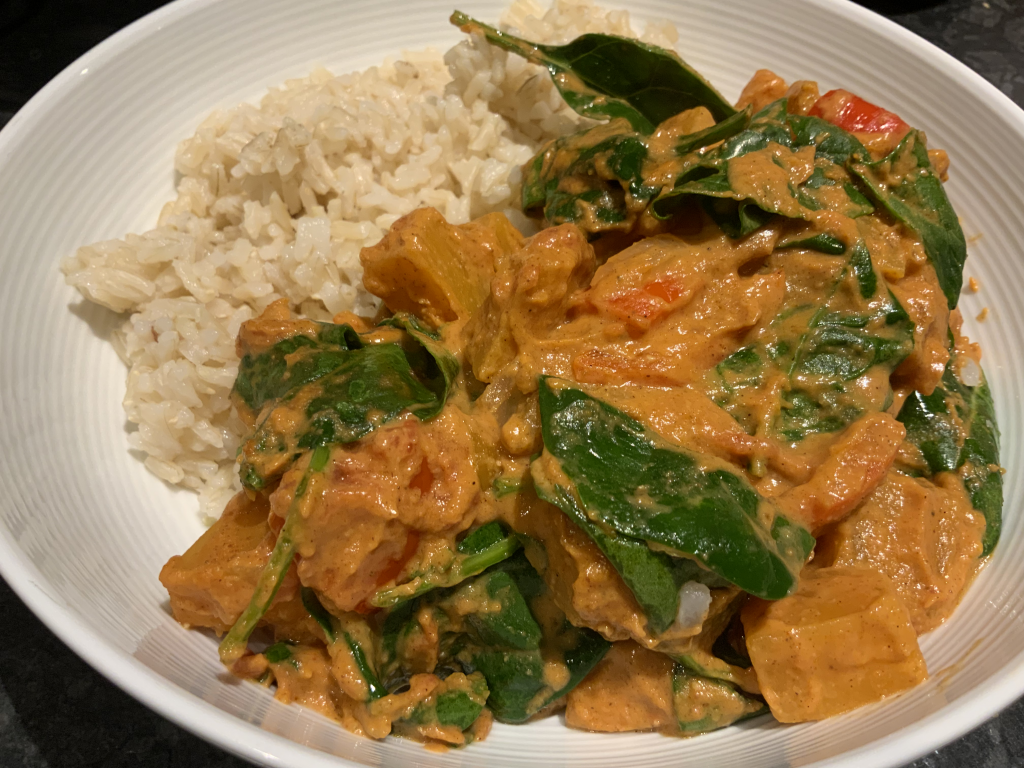 ---
West African peanut stew
10 minutes preparation + 30 minutes cooking — serves 3 to 4
Ingredients
800 grams butternut squash
1 tin of chopped tomatoes
2 onions
1 red pepper
100 grams spinach
200 grams peanut butter
2 cloves of garlic
2 teaspoons ground cumin
2 teaspoons ground paprika
1 teaspoon ground coriander
1 teaspoon ground ginger
0.5 teaspoon ground cinnamon
0.5 teaspoon cayenne pepper
250 grams rice
Oil
Preparation
Boil a liter of water in a kettle.
Peel the butternut squash and cut into bitesized cubes.
Peel the onions and cut into large dice.
Wash the red pepper and cut into large dice.
Peel the garlic and finely chop.
Combine all spices into a small bowl so it's ready to be added to the stew later on.
Wash the rice and cook in a pot with the preboiled water for c. 19 minutes (longer/shorter depending on pack instructions). Drain and keep aside.
Preparing the stew
Heat some oil in a large pan and once hot, add the onion. Fry for c. 4 minutes.
Add the butternut squash and pepper to the onion and fry for another minute.
Add the garlic and spices to the pan, mix well and stir through.
Add the whole tin of chopped tomatoes (including liquid) and 300 ml water to the pan. Stir and bring to the boil.
Turn down the heat and let the stew simmer for c. 20 minutes.
Check that the butternut squash is cooked and steer in the peanut butter through the stew.
Wash the spinach and add into the stew. Mix slowly to let the spinach shrink.
Bringing it all together
Serve the stew with the rice.
Enjoy your meal!
---
Did you like this?
Leave a comment below if you made this recipe, and let me know what you think. Tips and feedback to improve the recipe are always welcome too!