A quick, filling curry with some extra spice.
I like curries because they're so flexible — spicy, sweet, filled with vegetables, lentils, or a meat replacement. Each region or nation has its own version. This Thai red curry was advertised during Veganuary in a Sainsbury's magazine by the Vegetarian Butcher. A simple recipe that you can put on the table in no time.
A real authentic curry of course takes much longer to put on the table, so that's why it's so helpful that there are so many curry pastes available that simplify the work. Be careful though, as ingredients vary by brand, even if you're making the same type of curry. I thought that this red curry would always be vegetarian, but then I found out that some brands use anchovies in their mix.
---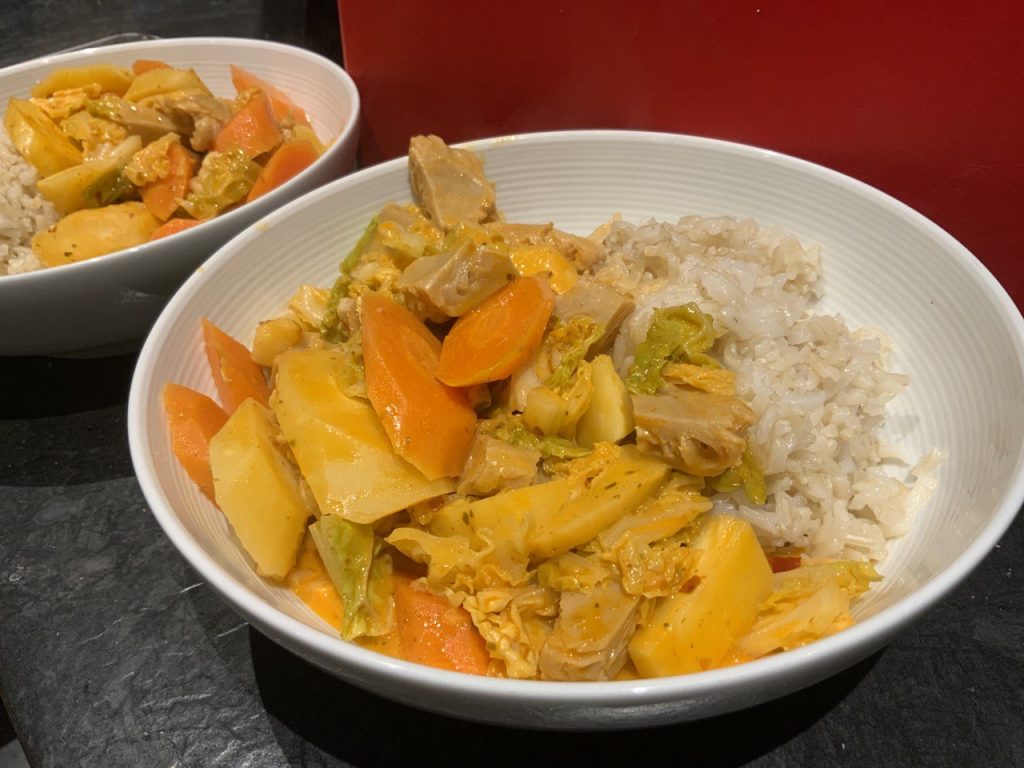 ---
Thai red curry
10 minutes preparation + 15 minutes cooking — serves 2 to 3
Ingredients
1 pack of What The Cluck from the Vegetarian Butcher or similar meat replacements for chicken
5 tablespoons red curry paste (make sure you use a vegan version)
400 ml coconut milk (reduced)
2 parsnips
2 large carrots
0.25 (Savoy) cabbage
160 grams of rice
Oil
Preparation
Boil a liter of water in a kettle.
Wash the carrots and cut into thin, diagonal slices.
Grate the parsnips and cut into thin, diagonal slices.
Wash the (Savoy) cabbage and cut into thin strips.
If necessary, cut the What The Cluck into smaller pieces (sometimes there are large pieces in the pack, make sure they are all a comparable size).
Wash the rice and cook in a pot with the pre-boiled water for c. 19 minutes (longer/shorter depending on pack instructions). Drain and keep aside.
Preparing the curry
Heat some oil in a large pan and once hot, add the curry paste (add more or less depending on how spicy you want it). Mix with the oil to release the fragrance.
Add the coconut milk to the curry paste and bring to the boil.
Add the parsnip and carrot and let it simmer for about 4 minutes.
Add the What The Cluck to the curry and cook for another 6 minutes until the vegetables are tender.
Add the (savoy) cabbage to the curry 3 minutes before the end, let it shrink and heat it up.
Bringing it all together
Serve the curry with the rice.
Enjoy your meal!
---
Did you like this?
Leave a comment below if you made this recipe, and let me know what you think. Tips and feedback to improve the recipe are always welcome too!