This is a delicious quick summer stir fry with only five core ingredients. The fresh broccoli, tomato and red onion give this dish enough flavour that you hardly need any additional spices to prepare a tasty meal.
I originally made this stir fry with bacon, then with vegetarian bacon, and now I switch between Vivera bacon and their Greek Style shawarma. Both options are tasty and it just depends on what you're in the mood for or what's available in the store! The trick is to cut everything else into really bite-sized pieces so that it doesn't take long to stir fry.
Despite the fact that we fry the potato in this dish, it is different from the baked potato dish I shared earlier. This is a quick stir fry so we make sure that the pan is hot enough and that the potatoes only need to be in the pan for a few minutes to crisp up!
---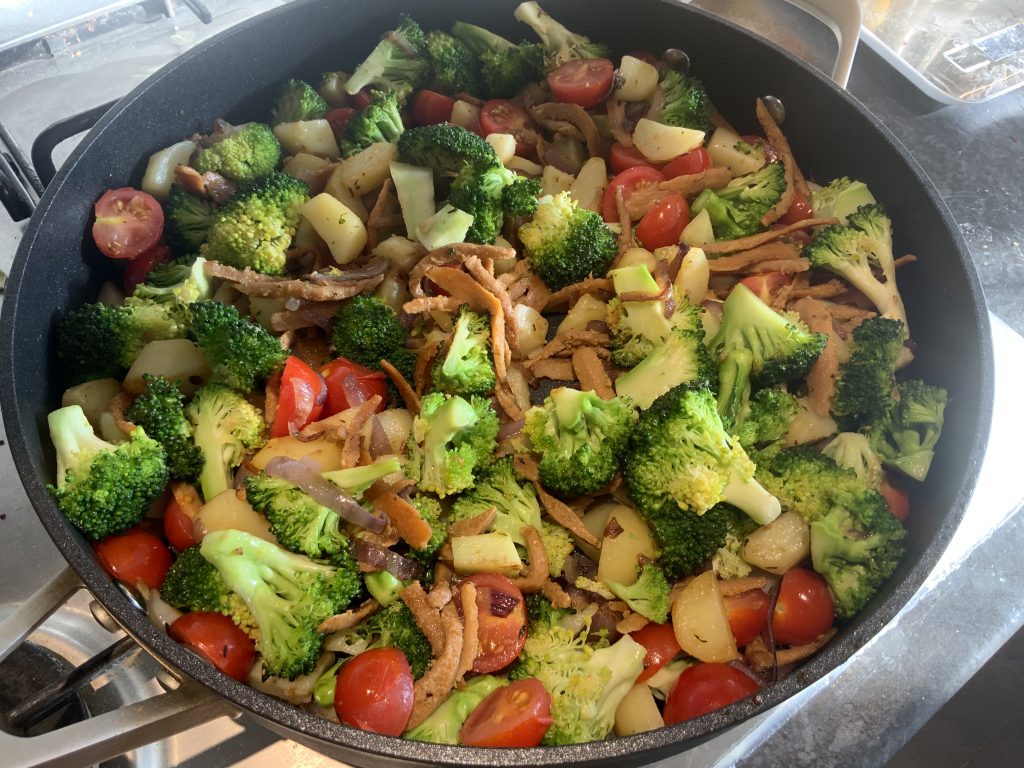 ---
Baked potatoes
10 minutes preparation + 15 minutes cooking — serves 2
550 grams potatoes
1 pack of Vivera bacon or Greek Style shawarma
350 grams broccoli
1 large red onion
200 grams cherry tomatoes
Freshly grated pepper
Sea salt
Oil
Boil a liter of water in a kettle.
Peel the potatoes and cut them into small cubes of no more than half a cm.
Cut the onion in half and cut into thin half rings.
Wash the broccoli and cut into small florets. Peel the stem and cut it into small pieces.
Wash the cherry tomatoes and cut them in half.
Boil the potatoes in a pot with the pre-boiled water for c. 5 minutes.
Heat some oil in a large frying pan or wok.
While the potatoes are cooking, fry the bacon/shawarma for 4 minutes. Keep separate.
Heat some extra oil in the pan and fry the onion for c. 4 minutes on medium heat.
Drain the potatoes and add to the red onion. Turn the heat up high.
Stir fry the onion and potatoes for c. 5 minutes.
Add the broccoli and stir fry for another c. 3-4 minutes.
Turn the heat back to low. Add the bacon/shawarma and tomatoes to the pan and heat for a further minute.
Serve the stir fry with freshly grated pepper and sea salt as a garnish.
Enjoy your meal!
---
Did you like this?
Leave a comment below if you made this recipe, and let me know what you think. Tips and feedback to improve the recipe are always welcome too!