A favourite in our kitchen is spaghetti bolognese. Made with delicious vegetarian mincemeat. This dish will make the whole family happy. The sauce is also easy to freeze — which we often do so we always have a tasty, quick meal on hand for busy days.
---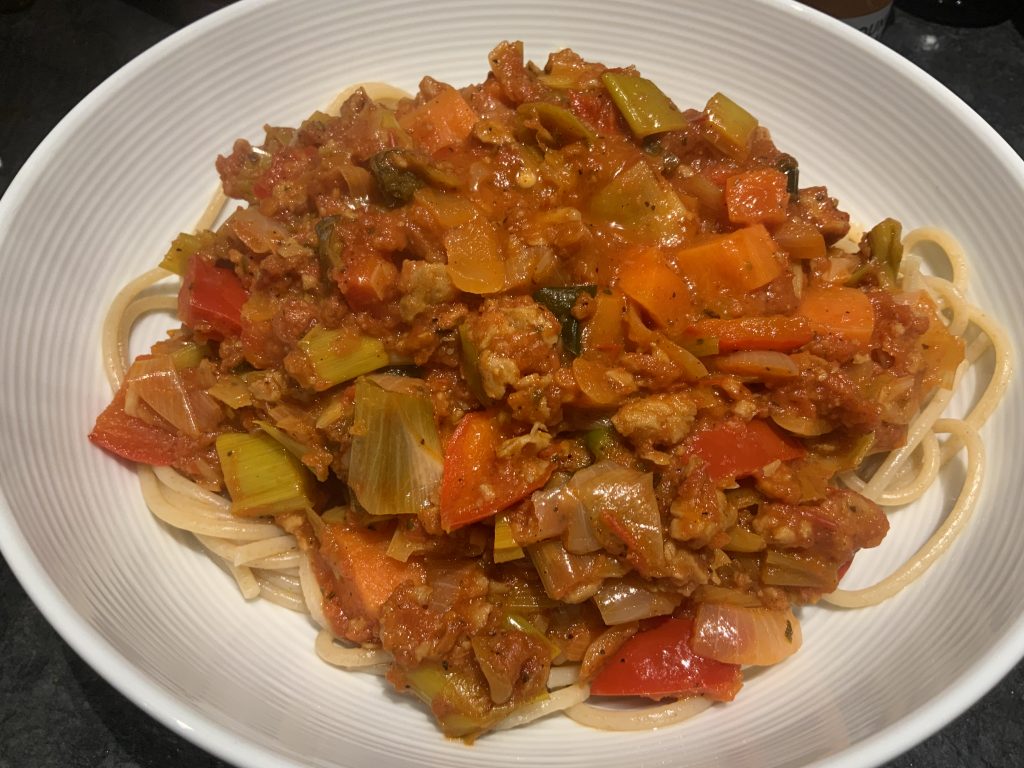 ---
Spaghetti bolognese
15 minutes preparation + 30 minutes cooking — serves 4
400 grams spaghetti
2 leeks
1 red pepper
2 onions
4 cloves of garlic
2 carrots
1 can chopped tomatoes
500 grams passata
1 pack Vivera minced meat (or any other vegetarian mincemeat, but note that the preparation order is different as we explain in our introduction to meat replacements)
50 grams butter
Pepper
Salt
Chili flakes
Italian herbs
Oil
Chop the onions.
Wash the leek and cut into thin rings.
Wash the carrot and chop into small pieces.
Wash the pepper en cut into bite-sized pieces.
Heat some oil in a large pan.
Fry the onion for c. 7 minutes until soft and browning.
Crush the garlic and add together with the leek and carrot to the onion. Fry for another 8 minutes or until the leeks are tender.
Meanwhile, mix the Vivera minced meat with a tablespoon of pepper.
Add the minced meat and red pepper to the vegetables. Fry for another 2 minutes.
Add the whole can of chopped tomatoes to the vegetables. Mix through.
Add the passata to create the sauce and bring to a boil.
Prepare the spaghetti while the sauce is heating up. Bring a large pot of water with a pinch of salt to a boil. Cook the spaghetti for 10 minutes (or longer/shorter depending on pack instructions). Drain.
Season the sauce with a small cube of butter, at least one tablespoon of Italian herbs, tablespoon of chili flakes, teaspoon salt, and pepper to taste. Heat through for another 2 minutes.
Serve the spaghetti with the bolognese sauce.
Enjoy your meal!
---
Did you like this?
Leave a comment below if you made this recipe, and let me know what you think. Tips and feedback to improve the recipe are always welcome too!